LiveScore: Live Sport Updates
3.2.0
Keep Yourself Updated with Live Scores of Your Favorite Sports!
Sports is all about emotion for avid watchers and viewers with the fans breathing every moment of their favorite team or favorite player's successes and failures. While one may not have any financial interest in the success or failure of a sports player or a sports team but it still has a great impact on the life of the supporters. Sports is an exhilarating form of entertainment with nobody knowing what would happen in a live match. With the busy schedules that people have these days, it becomes difficult to watch every game and every match of your favorite sports team or your favorite player. However, there is no denying that the emotional attachment can really cause a lot of frenzy if one knows that a match is going on live and one cannot watch it. The second best option in these circumstances is to know the score all the time so that you can at least kill your curiosity while being busy with the hustle and bustle of daily life. A live scores app like LiveScore can prove extremely useful in such conditions.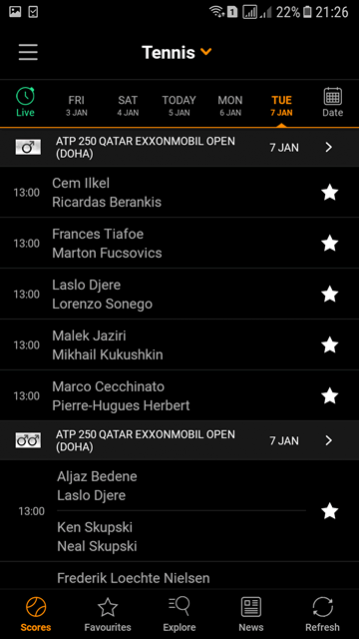 LiveScore is a very well-crafted app that understands the psyche of a sports fan. Rather than keeping a feature-heavy design which can confuse people, the app keeps it simple with its design so that the supporters can quickly know what's happening in any match as soon as they open the app (or through the notification bar if notifications are turned on). This is great as simplicity is all that is needed for a live scores app.
The app covers five major sports namely Football, Hockey, Basketball, Tennis and Cricket. The sports can be changed from the top very easily and you would be able to live scores of the current date directly once a sport is chosen. The app covers the English Premier League, La Liga, Seria A, Ligue 1, Portuguese League, Greece Super League, International matches and a lot more. It also covers domestic cup competitions and European club competitions with live updates from all the matches. Similar extensive coverage is available for the other sports.
The information can be a lot to process as there are just too many teams and too many matches going on at the same time in any given sport. To make life easier, you can add the competitions and teams that you want to follow to the favorites section and then simply see updates of scores of your favorites. The live scores of all games would be available in the first tab while live scores of your favorites would be accessible via the second tab.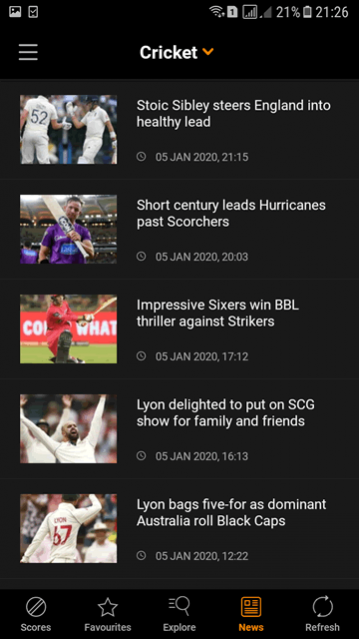 The live scores app does not just provide you information of the live scores as they happen. You can also look at the past matches and their scores by going back to a prior date in the calendar. Similarly, you can also see upcoming matches in the next week or month. This is actually great as it can help you with scheduling your tasks accordingly as well.
The app has a great explore section if you want to look at a particular competition and see the scores of matches going on in that particular competition. Similarly, a News section is also available which provides news of the sports you want to follow. Your favorites can be prioritized in the section so that you can directly access all the news and information about your favorite competition, favorite team or favorite player very quickly.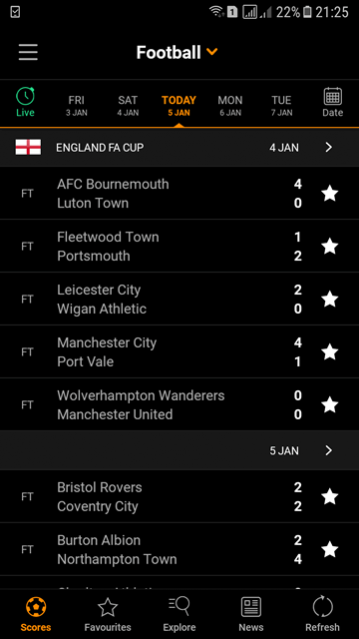 The live score app has a great settings section as well where the app offers the option of automatic refresh so as to keep the live scores updated at all times. There is also a section for notifications and a choice of the default sports that should be updated at all times.
Features:
Wonderful app design
Great live scores section with extensive coverage
Option to follow live scores of five different sports
Nice news section to keep supporters in touch with everything about their favorite sport
Conclusion:
If you are an avid sports fan, who wants to keep updated with all the live scores in every competition or if you are a fan of a particular team but are too busy to watch a game live, Live Score is a great app to have on your phone!
---
Add a review
Tell us your experience with
LiveScore: Live Sport Updates
3.2.0
RELATED PROGRAMS
Our Recommendations
---
---
---
---